Lupus and Isolation: A Guide to Surviving the Holidays During a Global Pandemic
Few can argue that 2020 has been a year unlike any other. Feelings of isolation may be amplified now that it's the holiday season, and if you have lupus, these feelings may be stronger than ever.
Introduction
If you have lupus, you've probably struggled extra hard this year with keeping yourself safe. Now, you may be experiencing the added stress of having to spend the holidays isolated from those you love, and feeling the pressure of having to say "no" to others to keep yourself safe.
Even knowing that many are in the same boat may not bring much relief. However, there are things you can do to reduce the feelings of isolation and even make the holiday season enjoyable, starting with …
Reframing Your Thinking
First and foremost, go easy on yourself – these are unprecedented times. Remember that you are resilient.  Keep doing what you have been doing this past year; continue to reframe the thinking that has lead to you better managing your feelings.
Don't deny yourself your feelings: You own your emotions – they are real and don't let anyone tell you otherwise. It's okay to feel down sometimes – that's part of being a human being. If you don't feel up to celebrating the holidays this year, that's okay, too.
Reset your expectations: A lot of your family and personal traditions off-limits this year. Take stock of your expectations and adjust them to the reality of the times. Know that in the future you'll be able to practice your holiday traditions again.
The only way through a difficult time is forward: It may not feel like it, but this will pass and is only temporary. You can still share the holidays with those you through phone calls, Skype, Facetime, and Zoom. Although this isn't ideal, and you may have to get creative – creativity can be fun.
Focus on what you can control versus what you can't: Do your best to stay healthy and safe and avoid situations that put you at risk. Having lived with lupus, you already have experience in having to say, "no I can't" when your health just doesn't allow you to participate; others may not.  It can be challenging not to judge the actions or expectations of others, but try to understand their motivations. You may just feel happier as a result.
Finally, for those of you who will be alone for the holidays due to COVID-19, you can also reframe your thinking from "I'm stuck here alone this holiday" to "I have the opportunity to wish everyone well and spend some quality time with myself during the holidays."
10 Self-Care Habits To Carry You Through the Holidays
You can take control of your emotions by setting the tone for how you want your holiday to look. If it looks like a more traditional holiday, great! If it ends up looking like your ideal way to spend any day, that's great, too!
Rest and rejuvenate: Take time to get the rest and relaxation your body (and mind) need. Take it easy. Create a warm and cozy space to just be.
Connect: Chat with family and friends (especially those who may also be alone) via a phone call, text, Zoom, Facetime, or email. Give yourself an out if you are afraid a call may go on and on, but you still want to touch base.
Treat yourself: Fix your favorite foods, watch a favorite movie, binge on Netflix, or take an at-home spa day. Pamper yourself and take care of yourself.
Distract: Stay away from the news, social media, or whatever else may cause too much emotion. Work on hobbies, puzzles, crafts, or catch up on your reading. If the holidays are depressing you, make sure that your activities don't revolve around them.
Appreciate: Appreciate the people in your life and what you have that is going well (it can be something as small as having new winter boots or not feeling fatigued today). Keep a gratitude journal to list the things that you are thankful for in your life or write thank you letters to those you are grateful for.
Anticipate: Plan something for when life gets back to something more normal! Organize a trip and all the things you'd like to do – even if it's vicariously. Start saving for something you want to buy. Plan visits with people who haven't been able to see. Give yourself something to look forward to.
Create a new tradition: Why not start something new this year? Want to learn how to bake holiday treats? Start this year by getting a good cookbook and practicing. Want to usher in the holidays by reading all day? Download something for your e-reader from the library!
Exercise: Any amount of movement can decrease depression symptoms and boost mood. If you can get out for a walk around the block, do so. If you rather stay indoors, do some simple stretches or easy yoga to work out the kinks.
Find joy: It may seem hidden, but it's there! Look around your home for something that makes you happy. Look outside for something to make you smile. Somedays you may have to look a little harder, but eventually, you will find it!
Be mindful: If you feel extra stressed, practice deep breathing or mindfulness meditation. Remember that thoughts are just thoughts that come and go all the time. There are several apps and practices online that can help guide you through to peace.
Chances are that others you know may feel cut off from family and friends this holiday season, too, because of the pandemic or other reasons. There are some things you can do to reach out to them so they don't feel so alone and to make sure they are okay:
Let them know they are not alone and you are feeling lonely, too;
Be there for them and actively listen;
Remind them how important they are to you and that they are loved;
Send them cards, letters, drawings, pictures, etc. so they have something to look forward to; and
Respect their privacy and needs, especially if they don't feel up to a conversation or sharing, and know when to step back and put their wishes first.
In turn, you may feel better knowing that you may be able to help someone else who may be struggling emotionally this year. You may both find the comradery you may have been missing!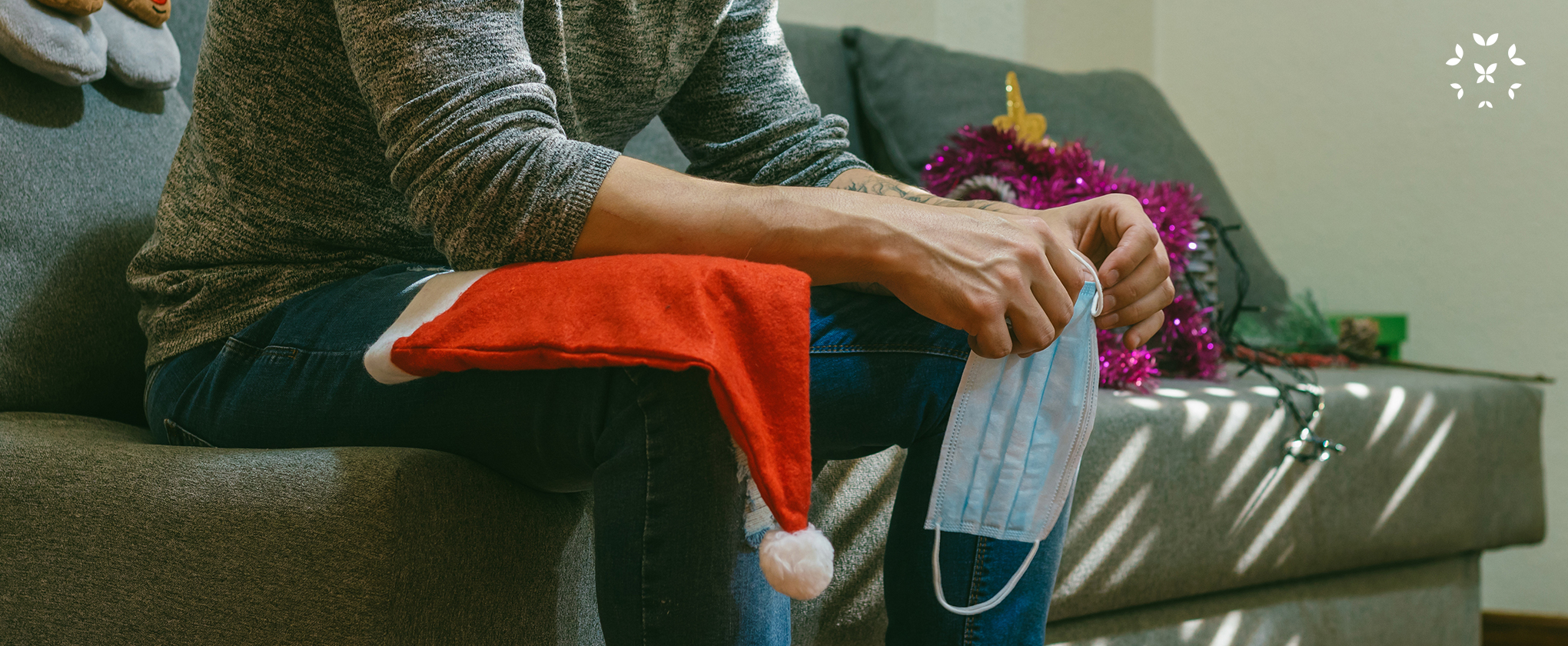 In Conclusion
One of the most important things to remember is that after all is said and done, it's okay to JUST SAY NO! You don't have to do anything that you don't feel like doing and you don't owe anyone a lengthy explanation or feel like you have to justify your actions. It's okay to just want to celebrate – or not celebrate – the holidays on your terms. Remember, you and your health – both physical and emotional – come first. It may also help to know that year should be an anomaly and that there is a glimmer of light at the end of the tunnel as the COVID-19 vaccine has just been approved and that the holidays next year may resemble something you're more used to – unless you create your ownnew normal!
***Always remember, though, if you or someone you know in the U.S. is experiencing suicidal thoughts and feelings, call, the National Suicide Prevention Lifeline at 1-800-273-8255, or text the National Crisis Text Line at 741741. Internationally, visit www.iasp.info or www.suicide.org to find helplines in your country.***
References
Avellan, L. (n.d.). Avoiding a stressful holiday season. Nosidebar.com. https://nosidebar.com/stressful-holiday-season/
Becker, J. (n.d.). 12 steps to avoid disappointment this holiday season. Becomingminimalist.com. https://www.becomingminimalist.com/avoid-christmas-disappointment/
Bursack. C. (2020, November 18). Tips for reducing loneliness in elders during the holidays. Agingcare.com. https://www.agingcare.com/articles/elderly-loneliness-during-holidays-148441.htm#:~:text=Look%20at%20family%20photos%2C%20watch,social%20distance%20and%20wear%20masks.
Dealing with depression during coronavirus. (2020). Helpguide.org.https://www.helpguide.org/articles/depression/dealing-with-depression-during-coronavirus.htm
Fielding, S. (2020, October 28). Alone for the holidays? Here are some ways you can make your season feel more fruitful. Greatist.com. https://greatist.com/health/alone-for-the-holidays
Maynard, S. (2020, December 9). 3 coping strategies for introverts to battle their pandemic fatigue. Introvert, Dear.com. https://introvertdear.com/news/coping-strategies-for-introverts-to-battle-their-pandemic-fatigue/
Moeller, S. (2020, November 3). 5 ways to prepare for your first holiday alone. AARP.org. https://www.aarp.org/home-family/friends-family/info-2020/holidays-alone-pandemic.html
Scott, E. (2020, December 9). Loneliness and the holidays. Verywellmind.com.https://www.verywellmind.com/loneliness-and-the-holidays-3144645
Author: Liz Heintz
Liz Heintz is a technical and creative writer who received her BA in Communications, Advocacy, and Relational Communications from Marylhurst University in Lake Oswego, Oregon. She most recently worked for several years in the healthcare industry. A native of San Francisco, California, Liz now calls the beautiful Pacific Northwest home.
All images unless otherwise noted are property of and were created by Kaleidoscope Fighting Lupus. To use one of these images, please contact us at [email protected] for written permission; image credit and link-back must be given to Kaleidoscope Fighting Lupus.
All resources provided by us are for informational purposes only and should be used as a guide or for supplemental information, not to replace the advice of a medical professional. The personal views expressed here do not necessarily encompass the views of the organization, but the information has been vetted as a relevant resource. We encourage you to be your strongest advocate and always contact your healthcare practitioner with any specific questions or concerns.