The Paleo and Anti-Inflammatory Diet: What you should know
Contents:
What is the Anti-Inflammatory Diet and Paleo Diet? Are they good for lupus and other autoimmune diseases?
What is the Anti-Inflammatory Diet?
In Conclusion: What should be in your grocery basket?
---
What is the Anti-Inflammatory Diet and Paleo Diet? Are they good for lupus and other autoimmune diseases?
Lupus is an inflammatory autoimmune disease that can affect multiple parts of the body including the various organ systems. Doctors prescribe traditional pharmaceutical medications to manage symptoms and prevent flare ups of the disease that can cause more serious problems and complications. Many patients choose to supplement their pharmaceutical care with alternative treatments and lifestyle adjustments like using diet and exercise to minimize lupus symptoms. We discuss this further in our  blog, Lupus/Chronic Illness: The Mind/Body Connection. There exists two major diets widely discussed in the autoimmune world. One is the anti-inflammatory diet and one is called the Paleo Diet.
It is very important to state that we, at Molly's Fund Fighting Lupus, do not endorse either of these diets. There has been no specific scientific research claiming that either diet stops disease from progressing or eases symptoms.

 
That being said, many physicians support the following of any nutritional plans that are designed to fight inflammation and support the immune system. According to the Department of Health and Human Services and American Heart Association, chronic inflammation might cause diseases such as atherosclerosis, arthritis, osteoporosis, Alzheimer's disease, food intolerances, diabetes, fibromyalgia, heart disease and in some cases even cancer. It also accelerates the aging process. Nutrition is a very powerful way to protect your cells from inflammation, thus the connection. Lupus, like any other auto-immune disease is different for each individual. While something may work for one person, it may not work for another. In general, it is a good idea for people with autoimmune disorders to discuss any major dietary changes with their doctor beforehand. We are writing this blog primarily in order to provide information and respond to the conversations occurring on our social media platforms with regards to these two diets. Let's begin by discussing the definitions of each. Back to top
What is the Anti-Inflammatory Diet?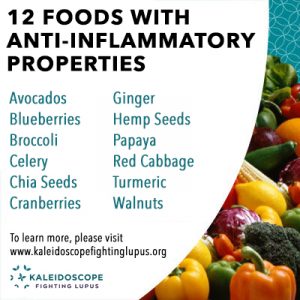 This diet is not intended for weight loss (although that can be a side effect). The anti-inflammatory diet is intended to provide steady energy, plenty of vitamins and minerals, and the essential fatty acids needed to maintain optimum health. You could look at this more like an eating plan for life as opposed to a diet per se. It is based on the general concept that eating to avoid inflammation promotes better health and can ward off diseases. According to Dr. Andrew Weil, the Harvard trained natural and preventative medicine physician (as seen on Oprah, and the Dr. Oz show,) there is clear evidence to support that inflammation can be very damaging to the body and he therefore openly supports the Anti-Inflammatory Diet. "We all know inflammation on the surface of the body as local redness, heat, swelling and pain. It is the cornerstone of the body's healing response, bringing more nourishment and more immune activity to a site of injury or infection. But when inflammation persists or serves no purpose, it damages the body and causes illness. Stress, lack of exercise, genetic predisposition, and exposure to toxins (like secondhand tobacco smoke) can all contribute to such chronic inflammation, but dietary choices play a big role as well." Both he and Barry Sears, MD, the author of the well-known Zone Diet both agree that this diet can have significant positive results on many diseases. Here are the basics of the anti-inflammatory diet (all versions vary, but this is the general proposal for all:
Eat lots of fruits and vegetables.
Minimize saturated and trans fats.
Eat a good source of omega-3 fatty acids, such as fish or fish oil supplements and walnuts.
Limit your intake of refined carbohydrates such as pasta and white rice.
Eat lots of whole grains such as brown rice and bulgur wheat.
Choose lean protein sources such as chicken; cutting back on red meat and full-fat dairy foods.
Avoid refined foods and processed foods.
Use spices like ginger, curry, and other spices that have been shown to  have an anti-inflammatory effect.
What is the Paleo Diet?
The word Paleo means ancient or older. The Paleo diet, as its name states, is a diet based around focusing on foods that have been eaten by humans for thousands of years during their evolution. Foods that existed before the introduction of agriculture. These foods are fresh and free of any added preservatives, mainly consisting of vegetables and meats. Paleo advocates claim that this way of eating can improve all aspects of your health, including your weight, reduction of disease activity and prevention of some chronic diseases like heart disease and type 2 diabetes. The Paleo diet provides that we should be eating what heals and supports our immune system. This diet includes diet the following diet recommendations as shown in the above graphic:
Eat non-starchy vegetables
Eat grass-fed meats, free-range chicken, wild-caught fish and seafood
Choose healthy fats like avocados, olive oil, coconut oil
Eat nuts and seeds
Avoid all processed and refined foods
Eliminate grains, especially gluten-containing grains like wheat, barley, and rye.
Avoid dairy products
Avoid sugar
The theory is that eating foods that contain gut-irritating compounds causes a 'leaky-gut' which means that any of the non-recommended foods are not able to be digested properly, passing large pieces from the intestines directly into your blood stream.  Your body sees these as foreign substances and begins to activate the immune system which will, in turn, attack not only these substances, but the body. This, according to Paleo supporters, leads to immune disorders. The Paleo diet does exclude several large food groups and encourages a high consumption of animal fats. In some cases, this may not be the best choice for an individual's health. Back to top
LUPUS DIET PLAN by Laura Rellihan 
Whether you are newly diagnosed with lupus or you have had the disease for decades, The Lupus Diet Plan is a must-have addition to your cooking and lifestyle book collection. The Lupus Diet Plan provides an excellent narrative that outlines easy ways to establish healthy eating habits and lifestyle choices while explaining the science behind the food.
In Conclusion: What should be in your grocery basket?
According to the Mayo Clinic, "People with lupus should eat plenty of fruits, vegetables and whole grains. These foods are rich in vitamins, minerals and essential nutrients that benefit overall health and can help prevent high blood pressure, heart disease, kidney disease, cancer and digestive disorders. Plant-based diets also support a healthy weight because they are naturally low in calories, fat and cholesterol. Fruits and vegetables are particularly high in antioxidants. Antioxidants protect the body by destroying harmful substances that damage cells and tissue and cause heart disease and cancer." Take a look at our blog, Lupus: the Diet Dilemma for some great tips. While these diets, or eating plans, may have some merit, individual foods should not be the focus. Pay attention to your overall pattern of nutrition. Reducing inflammation is not just about what you eat.  Patients should also know that these diets are never meant to be a replacement for the lupus treatments they may already be taking under the close supervision of a medical professional. Until more research is in on the effectiveness of these diets, be practical by getting enough sleep and exercise, and try to maintain a healthy weight. Back to top
Sources: www.mindbodygreen.com, livestrong.com, achieveclinical.com, paleospirit.com, lupus.org, DrWeil.com, WebMD.com
Author:  Karrie Sundbom
All images unless otherwise noted are property of and were created by Kaleidoscope Fighting Lupus. To use one of these images, please contact us at [email protected] for written permission; image credit and link-back must be given to Kaleidoscope Fighting Lupus. 
All resources provided by us are for informational purposes only and should be used as a guide or for supplemental information, not to replace the advice of a medical professional. The personal views expressed here do not necessarily encompass the views of the organization, but the information has been vetted as a relevant resource. We encourage you to be your strongest advocate and always contact your healthcare practitioner with any specific questions or concerns.